THE CRITIC: Brendan Benson's "My Old, Familiar Friend"
Brendan Benson – My Old, Familiar Friend
ATO Records 2009
Rating: 8/10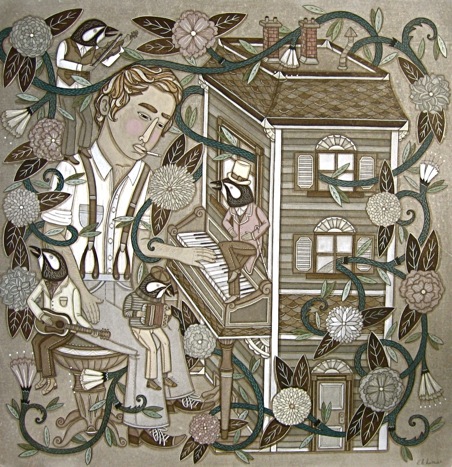 Being one of Jack White's right-hand men certainly does have its advantages. Practically unknown outside of Detroit before he joined up with White and company for the Raconteurs in 2005, power-pop auteur Brendan Benson has been quietly making effortlessly catchy rock 'n roll since the '90s. It's a bit ironic that Benson finally achieved a modicum of commercial visibility assisting White in a band where Benson was merely the second fiddle, although Benson's pop influences and golden ear for a hook were a major reason for the Raconteurs' radio success. Then again, those Raconteurs paychecks have gone a long way towards buffing out Benson's inimitable pop-rock stylings, and My Old, Familiar Friend features Benson's most tricked-out studio effort yet, along with the requisite mammoth wall of hooks and lyrical charm he's been praised for all these years.
Unlike, say, Fountains of Wayne, Benson's never had that one commercial smash to break through the indie wall and into the mainstream, but My Old, Familiar Friend is, without a doubt, chock-full of potential radio smashes aimed at shattering that wall: the arpeggiated piano stomp and straightforward chorus of "Eyes On The Horizon;" the light-hearted "hey-hey-hey-now" refrain and lovesick musings of the bubbly "Misery;" the synthed-out wallop of opener "A Whole Lot Better," supercharged with its multi-tracked choruses and relentless acoustic strum. From song to song, Benson nails every note with practiced precision, making My Old, Familiar Friend a clinic in how to make pop music not only accessible, but also innovative and undeniably fun.
Of course, this isn't something Brendan is exactly new at. While the album sounds fuller than previous releases, this is still what Benson has been successfully pulling off for years, except now with more dollars to throw at the mixing boards. Benson's lyrics are still the standard love-won/love-lost reveries of a thousand singer-songwriters (albeit with the sort of sly wordplay Benson has perfected), the guitars belt out Cheap Trick-sized riffs with a trebley sparkle, and the rapid fire drum work is up to tempo and flawlessly energetic. And he still can't get rid of his sappy side – for all of Benson's wistful, lost puppy vocals and the swelling, sweeping string section, "You Make A Fool Out Of Me" can't kick the melodrama out of its system. For all its over-produced bluster, a schmaltzy ballad is still a schmaltzy ballad, no matter how many orchestras you pile on top.
What separates My Old, Familiar Friend from what's come before, however, is when Benson stretches his figurative legs and really puts all that studio money to use. Straight-ahead power-pop like "Eyes On The Horizon" is all well and good, but when you hear a track like the retro-tastic "Garbage Day" or the threatening synthesizer pulse of "Feel Like Taking You Home," Benson's talents become nearly revelatory. The former is an immediate classic, a doo-wop and Brill Building pastiche that is enveloped in bright strings and a four-on-the-floor rhythm – you can almost imagine some label's stable of girl back-up vocalists belting out some "ooh la las" in the background.
There's the pounding stutter-step of "Poised and Ready," which features one of Benson's most immediately gripping vocal performances, followed by the deceptively sprightly break-up anthem "Don't Wanna Talk," a song with the kind of chorus that makes one think it's a tragedy this guy isn't on the radio every day. The aforementioned "Feel Like Taking You Home," meanwhile, will have air drummers everywhere picking up their imaginary sticks for the solo-filled climax.
It's those kinds of sincerely memorable tunes that make My Old, Familiar Friend another step in the right direction for Brendan Benson, not to mention another classic example of rock 'n roll mixing with the best kind of pop sensibilities. There are a few missteps – the underwhelming closer "Borrow" is the kind of rip-roaring kiss-off Benson can do in his sleep, and "Lesson Learned" is sort of a poor man's "Them & Me" (from 2005′s Alternative To Love), but these are minor chinks in an album that largely succeeds in again differentiating Benson from his more famous side project. Indeed, My Old, Familiar Friend is just that – a comforting, intimate collection of infectious power-pop that welcomes back this melodious craftsman to the solo world with a warm embrace.