Shows (Not) To Miss This Fall
Confused when it comes to new Fall programming? Don't worry, you TV addicts! we'll tell you what looks like it's worthy of your Tivo and what has got to go! Scroll down for our reviews of the best and the worst of the new shows.
My Antonio
VH1 Sundays at 10PM PST

Usually, we adore VH1 for producing terrible and trashy reality shows that I liken to a big bag of Doritos…you know you shouldn't open it, but once you do, you know you're in it for the long haul. However, new show "My Antonio," featuring model Antonia Sabato Jr. actually features classy women (not strippers) competing for his love. However, just because these women are sane, doesn't make it good television. We all know that the pursuit of classy women happens in fancy restaurants and exclusive rooftop bars, NOT on reality shows. Don't waste your time or the memory space in your DVR on this one.
GRADE: GOT TO GO!
Shark Tank
ABC Tuesdays at 8 PM PST

Who doesn't like to watch people's bad business hopes and dreams get shattered when a group of out-for-blood venture capitalists rip entrepreneurs a new one. It's like the opposite of the proverbial American Dream. However, the show does have it's moments of glory where someone actually presents a viable idea…it's enough to stay tuned.
GRADE: TIVO
Glee
Fox Wednesdays at 9pm PST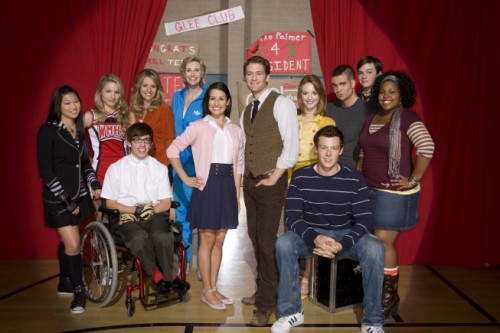 What do you get when you combine some of music's greatest hits with a group of high school misfits? If you answered "Glee" you're either really smart, or you just saw the picture above. This heartwarming high school show comedy already gained a strong cult following online, before it even debuted. Catch the premiere tonight on Fox.
GRADE: TIVO
The Jay Leno Show
NBC Weeknights at 10 PM PST

One of TV's brightest stars returns to the small screen with another show. Jay Leno's strong fan base will, no doubt, follow him to his new time slot. And so will we! And if this man has the power to make headstrong Kanye West apologize to Taylor Swift on national TV, we'll stay tuned.
GRADE: TIVO
Cougar Town
ABC Wednesdays at 9:30 PM PST

Considering Courteney Cox is coming back to comedy, we're ready to jump on board for this sitcom. However, the title "Cougar Town" creeps us out a little bit and it's hard to believe Miss Cox will ever be spending her Friday nights alone in pursuit of a romantic companion. But we're still willing to give it a shot…
GRADE: TIVO AND SEE HOW IT GOES
Eastwick
ABC Wednesdays at 10 PM PST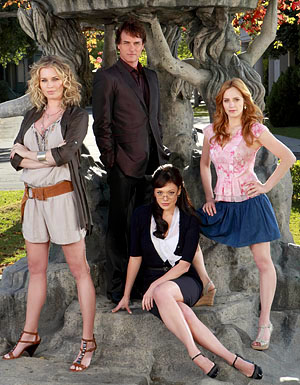 Didn't this show just get canceled? Wasn't it was called "Lipstick Jungle." Okay, bad joke. But seriously, although the show looks mildly interesting, we can't say we're confident about it's potential success. It looks like a second rate adaptation of "Sex and the City" or "Desperate Housewives" with broomsticks and magic wands.
GRADE: GOT TO GO