"I Am EXTREMELY Terrified of Chinese People"
When you Google "I am extremely…" in the search bar, a whole slew of results comes out. Many results are typical: I am extremely shy, jealous, grateful, pleased, yadda yadda, etc. etc. But you won't believe (actually maybe you will,) the last one: "I am extremely terrified of Chinese people."
Well, Google, you very may well have a point there. The Chinese are downright scary. Take for instance, their fortune cookies. You may think I'm crazy, I mean, it's just a cookie you might say. But that's exactly what the Chinese want you to think! They are actually evil contraptions designed by the CCP to forebode a dark, bleak, and desolate future on people's lives.
"You will find a secret come to life in an unexpected way," said one of my Chinese fortune cookies that I'll never forget. I felt threatened. What could that possibly mean? Will that girl in middle school come back to haunt me after she finds out that I was the one who instigated her nickname, Benji Franklin (it wasn't my fault the girl looked exactly like him!) Or will Lou Reynolds seek revenge after her finds out that I was the one responsible for breaking him up with his girlfriend in the seventh grade?
What the hell are you foreshadowing, fortune cookie?!
Well four YOU cookie. That's right, you take that unlucky number and shove it up your cookie slit and shove these other scary things about China with you!
Here are other things about China that completely mortify me!
8 Things About China That 'Terrify' Me:
1. Mao Zedong- One of China's most revered public figures is still heralded today as a god who changed the country. To us, he's just a tyrant we'd never want to meet, let alone sleep with . Not only was his dome piece shiny, greasy, and salty from all of those leftover pieces of Peking Duck he left in there, the man never, ever brushed his teeth. Now that's raunchy and just reeks scary.
2. Fu Manchu- The caricature first appeared as a villain in an English author's books. He was also featured in cinema and became the stereotype of what Asian males were supposed to be like. My question posed is, did he have to looking so damn scary? Oh, that's right, because a white man was playing a Chinese person with "yellow face."
"Imagine a person, tall, lean and feline, high-shouldered, with a brow like Shakespeare and a face like Satan, … one giant intellect, with all the resources of science past and present … Imagine that awful being, and you have a mental picture of Dr. Fu-Manchu, the yellow peril incarnate in one man" from The Insidious Dr. Fu Manchu.
3. Edison Chen- Any man who's on the loose probably spreading HIV to all of Hong Kong and therefore, mainland China, is just downright a pandemic in his own damn self. When Edison Chen's computer uncovered hundreds of Chinese actresses in the nude and in sex scenes with him, I'll admit, I was like geeze, that China-dude got some skills. But after thinking about our current AIDS epidemic, I screamed. Yes, Edison, AIDS stops with you!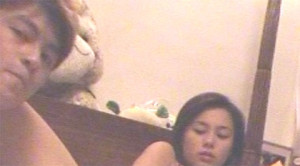 4. Feng Shui- Ever walked into a house and it just seemed eerie? Do you know where that sense stemmed from? Yes, it was Feng Mother Effing Shui. You know, placing your bong next to your mother's vase instead of beneath it. Changing your television's position from behind the beer pong table instead of in front. Placing your syringes on top of the table instead of hidden away in your basement. Yes, this feng shui shizz is the reason Bruce Lee died. His vibes from his house were ALL wrong.
5. Bai Ling - Do I need to say more? That b**** is crazy! And will steal your mother effing stuff. And batteries. And citizenship. And life. And testicles…she'll devour those.
6. Chinese character tattoos- What's worse than squiggly lines passed for an actual written language? Squiggly lines permanently tattooed on one's arm in the name of fashion. One prime example of shmuckery is a British lad who thought he was getting a most wonderful tattoo on his forearms. The 18-year-old thought his tattoo said "Love, Honor, Obey," but instead, the boy got this:
"At the end of the day…this is an ugly boy!"
7. Sun AKA Geisha's "China Wine"- I knew she was disastrous the minute I saw her hair spinning as she screamed "China wine" a good forty nine times throughout the video. And the girl is confused on her nationality/ethnicity. She's Chinese yet she's a Geisha? Probably the best part of the video is when Tyson Beckford gets B****slapped in the end. Watch. It's random, yet hilarious.

8. Big Bird goes to China- Remember when Big Bird went to China? Yeah, how could I forget? I remember as a preschooler watching that little girl putting up a guise of innocence,  batting her eyelashes toward poor, fat, succulent Big Bird as if she really wanted to be his little Chinese friend. Did you all really believe in all that girl's bull? Do you really think that Chinese children have that much time in their communistic lives to talk to a random big, yellow AMERICAN bird? I didn't think so. As a child I saw right through that little girl, secretly licking her lips and smacking her mouth, drool dripping like hot oil. I knew exactly what she wanted. She wanted to eat the damn bird. Befriending a random American bird? HELL NO. Cooking the American bird into Kung Pao chicken for her entire village in Hunan? HELLZ to the YEAH!