Pop Culture Inspired Halloween Costumes for 2010
Halloween is right around the corner, and you're still trying to throw together a costume, aren't you? Instead of conforming to being a pirate, or God forbid…a fairy, here's a list you should consider.
Why not take a cue straight out from the wacky world of Hollywood and the game changers in pop culture this year?
Cam & Mitchell (from Modern Family)
If you're looking to go as the most dynamic duo on TV today – look no further than Modern Family's Cam & Mitch. While the whole cast of the show is great, these guys are the scene stealers every time.
What you'll need:
Cam – Bright colored or floral shirt. Stylish, yet loud. You may need to add a pillow under that shirt, for extra padding.
Mitch – Tailored jacket, slacks and don't forget that sweater vest. Add a little scruffy red beard and red wig to complete the look and you're good to go!
To cap off the look, don't forget your adopted Asian daughter, Lily!
Katy Perry & Elmo
Forget Russell Brand, arguably it was Katy and her Sesame Street co-star that made more headlines this year.
What you'll need: Black Bettie Paige style wig, princess tiara, cleavage bearing dress and Elmo.
If you want to get really cleaver, you can even put yourself inside of a TV looking box.
Couple costume: Mel Gibson & Oksana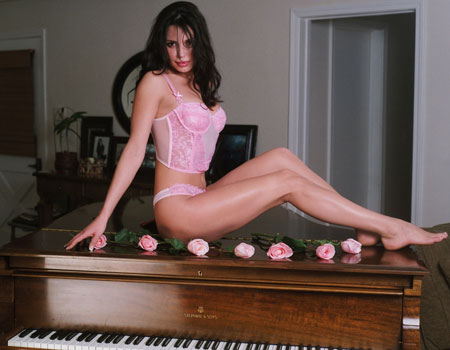 Who doesn't want to pretend to be raving mad every once in a while? Now's your chance to dress up and play Mel Gibson!
What you'll need:
Mel – Disheveled outfit, grey wig, cell phone.
Oksana – Plumped lips, thick accent, tape recorder with psycho Mel rants and a failed singing career.
For the added touch, be sure to bring your craaaaazy eyes out with you that night.
Lindsay Lohan
In the past Lindsay was a popular couple's costume, if you had a Sam Ronson to add to the mix. These days, Lindsay could still be a hit in the couples department – if your date wants to go as rehab, jail or lip injections. For 2010 the Lindsay look to capture is "Jailbird Lohan."
What you'll need: Long red or blonde wig (if it looks like extensions gone bad – excellent!), orange jumpsuit (blck & white stripes will suffice too), lip plumper, smeared eye makeup, Brown eyeliner for freckles and a scram bracelet.
Don't leave the house without LiLo's inmate number: 2409752
Bedroom Intruder (Antoine Dodson)
"Hide ya kids, hide ya wife" has gone from nightly news wackiness to pop culture phenomena. You have it as a ring tone on your iPhone, don't you?
What you'll need: Red bandanna, black tank top (if it says "hide ya kids, hide ya wife" – you are golden). If you want to make it real easy, just hit up this website dedicated to selling the official "Bedroom Intruder costume."
If you want to seal the deal, have friends follow you around as the news camera crew…and be sure to play that ring tone all night long.
Alas, it was a toss up between the Bedroom Intruder or LiLo, but…I'm channeling my inner Lohan this year. Who will you be?
Happy Halloween!