THE CRITIC: Britney Channels Her Inner Dance-Floor Dominatrix On "Femme Fatale"
Britney Spears – Femme Fatale
Jive 2011
Rating: 7/10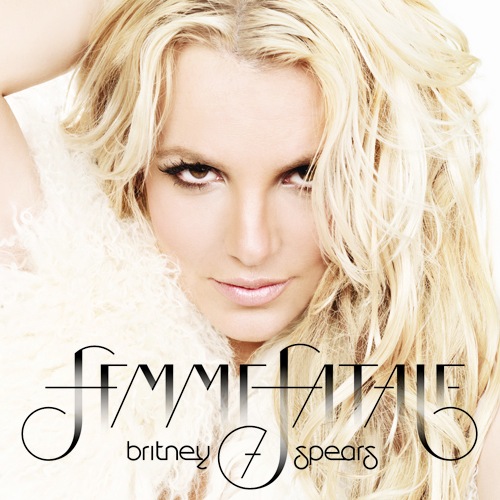 Britney Spears occupies a weird, unique space in the pop spectrum. She's been compared to past greats like Madonna and Kylie Minogue, but she lacks the latter's self-aware creativity and mentioning her in the same breath as the former is, frankly, insulting. A common complaint with Spears is that she doesn't write her own songs, which, the argument goes, somehow equates to a lack of talent, but the same can be said of Elvis Presley, Michael Jackson, Frank Sinatra… the list goes on. She isn't blessed with the preternaturally skilled vocals of a Mariah Carey or a Tina Turner, but her music has never been about her voice so much as her personality. And her personality is just what has carried her this far, when contemporaries like Mandy Moore and Christina Aguilera are becoming Starbucks whores and public laughingstocks, respectively. Spears is the ultimate pop chameleon, transforming from sly school girl with enough sexual innuendo to inspire thousands of illegal fantasies to a robotic dance-floor dominatrix, confident enough to overcome tabloid dramas that have ruined lesser stars. In many ways, Spears needed that separation from her past self to become the four-on-the-floor mistress she is on Femme Fatale. Calling Britney a pop singer is doing the term a disservice; she is much more of a pop bellwether, subject to the whims of the Top 40 crowd and more than happy to adapt to environments that have cruelly undone lesser icons. There's a reason Aguilera's last album sold barely north of 110,000 copies and Spears' single "Hold It Against Me" has the most aggressive beat on mainstream radio today. Spears shows a willingness to reinvent herself that belies her fragile personal life and, most importantly, keeps her on the cutting edge of pop music.
Sure, "Hold It Against Me" has the kind of dubstep breakdown that only the most naïve listener would consider representative of the genre, but the fact remains that Spears is the first to introduce such a rapidly rising phenomenon to the mainstream. She's become a pop juggernaut not by being the most talented, or the most charismatic, or even the one with the best songs, but by simply listening to the people who know the pop pulse best: her stable of producers. Blackout became such a great modern pop album because Spears finally submitted entirely to her songwriting team, choosing to become the entirely sexualized instrument through which their massive hooks would be transmitted to neon dance floors worldwide. And for Spears, that is just what she needs: a Max Martin and a Dr. Luke to write a track like "Till The World Ends," one that throbs with trance-y synths, a thumping electro beat that is pure sex and a chorus that goes and goes as only the best club hits can do, sensible lyrics be damned. Synths as dirty as the ones on "Trouble For Me" or as unashamedly Eurotrash as "Trip To Your Heart" are just what pop music needs right now, in a year when electronica is becoming bigger than ever and a pop song is not just about the hook but about how much it can make you move.
Yet while one can be assured that Spears' lyrics remain as one-dimensional and cheesy as ever, it's the sonically varied production work that prevents Femme Fatale from being a one-hit factory with a bunch of electro clones. It helps that Spears' sounds much more involved than she did on the rather dispirited Circus, with even a by-the-numbers Dr. Luke jam like "Gasoline" showing some Spears vocal pizzazz, as much as a Auto-Tuned sexual android as she tends to sound. The real treat of the record lies in the more off-kilter tracks, like Bloodshy & Avant's (better known as indie band Miike Snow) skeletal, vaguely African-flavored "How I Roll" and their rave day-glo specimen "Trip To Your Heart," a track that would make Tiesto blush. For all its obvious chart-topping intent and single-minded dance directive, Femme Fatale is an eclectic record, and that's why for every ill-advised will.i.am guest spot ("Big Fat Bass" - how the fuck this isn't a Black Eyed Peas song is beyond me) there's an out-of-left field flute (!?!) solo that actually works ("Criminal"). It isn't exactly the progressive stylings of a Janelle Monae, but damn if it's not catchy and interesting.
So, Britney Spears: pop icon or pop puppet, someone with the genuine foresight to see where the winds are blowing or one lucky enough to have a team of handlers to decide which direction she should go in? It will always be hard to tell, even though I'm inclined to lean towards the former considering Blackout had her pushing the pop boundaries years before electronic music was truly a driving force in mainstream culture. Perhaps it's easier to just say that Britney is Britney and nothing more – someone who is more a distinctive sound and a driving force of sex nowadays than a genuine musical talent. Femme Fatale, after all, is a flawed album, with lyrics that barely clear the level of a Ke$ha and a maturity level to match. But it's a pop album that's supposed to make you dance, and when it comes to that, there's not a star out there that can match Ms. Spears.