We're Giving Away Tickets To Kollaboration Acoustic!
As all you POP FIXERS know, we love a good Kollaboration!
In honor of our favorite Asian-American talent show, we're giving away 2 pairs of  tickets to the Kollaboration Acoustic show on August 22 at the Ford Theaters!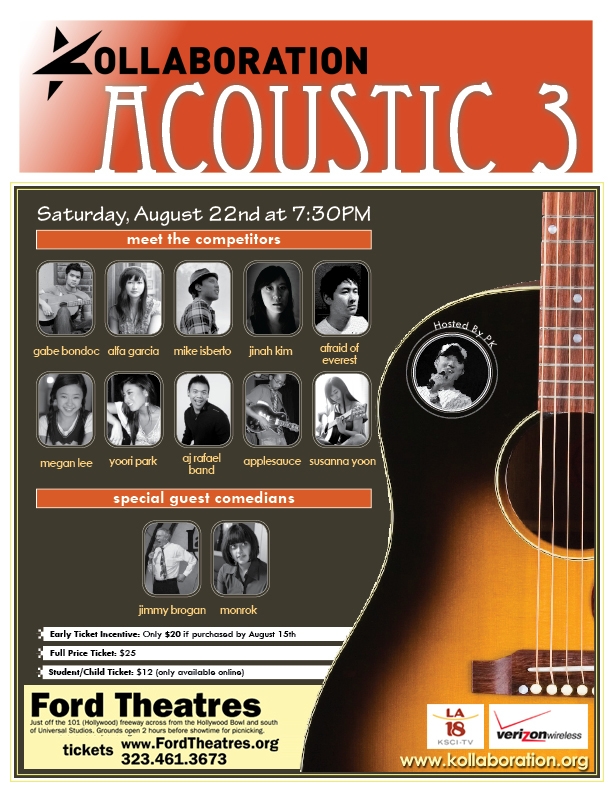 Some of the performers you will see at Kollaboration include youtube sensations Megan Lee, Jinah Kim (see video below) and Applesauce! Bring a friend, or a hot date! Either way, before you enjoy the show at 7:30PM come prepared with dinner and drinks to enjoy Ford's picnic area which opens at 6:30PM.

Want those tickets? Enter our giveaway by referring your friends to THE POP FIX! Have you friends write a comment on this post with their name and email address. Just be sure that they include you sent them here! The 2 people who send the most friends to THE POP FIX win a pair of free tickets to Kollaboration Acoustic! Winners will be announced on August 10th! Enter below! Good luck!
Contest Rules: Comments must be posted between 8/2/2009-8/10 2009. Comments must be accompanied by a real name and email address so that we can contact you. You must allow us to use your name and winning comment in connection with this Contest, if we choose to announce you as the winner on our site. By writing a comment on this page you are consenting to these rules.