Celebrity Style Icons To Watch in 2010
Navigating the fashion world can be tricky, especially when trying to stay ahead of the trends. But with a little inspiration from our favorite celebrity fashionistas, we can all be prepared when we update our wardrobes. Here are five celebrities to watch in 2010, and how we can steal their style and make it our own.
FOR HIGH FASHION, LADY GAGA
All self proclaimed pop culture experts know that 2009 was clearly the year of the Gaga. Lady Gaga's style is just as interesting as her mysterious persona, and as dynamic and her infectious tunes. Gerardo Mendez, our resident fashion writer, describes the Lady Gaga's effect on popular culture,
"Since Madonna, there has not been an artist who truly embodies his or her times. Lady Gaga does. She brings haute couture to the masses and shamelessly struts not only her sexuality, but her deep knowledge of fashion and trends, incorporating it all in an image so well styled that even I have been amazed by how she pulls it off!"
Gaga's fearless approach to fashion solidifies her spot as one to watch in 2010. From sky-rocketing shoulder pads to latex, thigh-high boots, Lady Gaga's loud performance-wear has influenced designers and sparked something in the mind of trendsetters everywhere. What else could possibly explain the popularity of the leotard in 2009? You too can look like Lady Gaga by incorporating a few simple pieces into your wardrobe; try a hooded leotard, tan booties, a studded bra, Lennon-esque sunglasses. Don't forget to think about interesting silhouettes and shapes while trying to dress like Gaga, she's never been afraid to use clothing and props to enhance or distort her body shape.
FOR CASUAL, FUNKY TRENDS, KE$HA

Joining the ranks of Amy Winehouse and Courtney Love, electro-pop ingenue Ke$ha is mastering the hungover rock star look. With her messy, blonde curls, casual style, and face paints, she's a welcome departure from the perfectly polished pop stars we're used to seeing. Her use of t-shirts, sneakers, cowboy boots and leggings all contribute to a look that's easy to wear and most importantly, comfortable. Everything about Ke$ha's persona indicates that she doesn't care what we think, and I predict that this confident and fun attitude will make her a fashion maverick in 2010.
Luckily for fans of her style, Ke$ha's look is relatively easy and inexpensive to achieve. The trick lies in a few statement pieces, with an emphasis on piling on tons of amazing accessories. To recreate Ke$ha's "Animal" style, you can't be afraid to wear an ostentatious outfit of zebra leggings, a vest with fur details, or cut-off denim shorts. Accessorize with feather earrings, gold ray ban sunglasses, bright colored sneakers, big turquoise rings, and don't shy away from layering on the gold bangles. Remember, no party girl look is complete without a little bed head.
FOR ALL THINGS HAIR AND STREETWEAR, RIHANNA

When it comes to hair and street wear, Rihanna is one fearless fashionista. This singer has made some surprising style choices in 2009. She shaved half of her head this past summer, and showed up at the MET Costume Institute Gala in a Dolce & Gabbana puffed-sleeve tuxedo, both choices done with complete confidence. Other than her bold fashion sense, what I admire most about Rihanna is her ability to mix and match her clothes like a pro, embodying the perennial trick of the trade we always read about in Elle and Vogue; pair high end items with a few pieces you pick up on the cheap. Admittedly, most of Rihanna's clothing is on the expensive side. But, she wears that the average person can easily find while perusing through the racks of H&M.
If you're in the mood to splurge, take a tip from Rihanna and spend your money on bags and shoes. You can save on just about every other element of your outfit and still rock Rihanna's style. Next time you're in Forever 21 or H&M, look for acid wash jeans, fitted one-shoulder dresses, basic solid colored tank tops, and corset style tube tops.
FOR THE PROFESSIONAL, MICHELLE OBAMA

It's been a long time since a First Lady has captured the fashion world's attention like Michelle Obama has. Mrs. Obama has been able to masterfully blend together a unique sense of contemporary style in a professional and dignified way. She also often wears pieces from up and coming designers such as Jason Wu and Sophie Theallet, making her a trendsetter and a key figure to watch if you're interested in a departure from the well-known labels and fashion houses. It's been a year since we first fell in love her in the feminine, flowing Jason Wu gown she wore for the Inaugural Ball, but Michelle Obama still remains a fashion icon for the older, or more professional set. Said best in the words of Jonathan Bussiere of Hips and Hair,
"Most fashion forward First Lady since Jackie O. Keep it up!"
Dressing like the fashionable First Lady is as simple as incorporating classic and sophisticated staples into your wardrobe. Think pearl necklaces, belted cardigans, floral prints on silk dresses, and knee length, fitted skirts. Also, keep in in mind that Michelle Obama also wears bright colors, and she isn't afraid to mix them together. This means that pairing a canary yellow sweater with a body conscious, knee-length dress is perfectly acceptable!
FOR THE RED CARPET, BLAKE LIVELY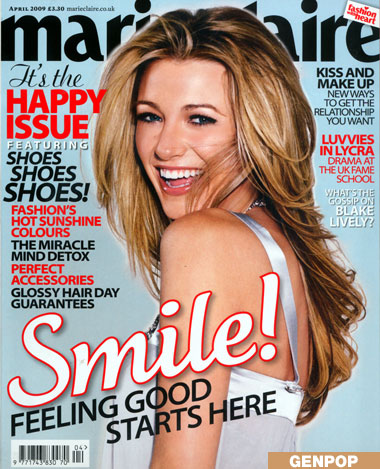 Blake Lively proves herself as not only a shining star on the small screen as the scandalous Serena in "Gossip Girl," but she's also establishing herself as a standout on the red carpet. Lively has a classic and effortlessly glamorous style that other Hollywood starlets her age have yet to hammer down. This may be, in part, due to her enviable physique (Lively stands at 5'10 with impossibly long legs), but it's undeniable that she looks her best wearing gowns and cocktail attire in formal settings. Blake Lively should be who young women look to emulate when it comes to special events, and red carpets in 2010.
In order to channel Blake Lively's fashion spirit, think jewel tones and body hugging cuts. Although we've seen her hit the town wearing a black gown, her most memorable style moments have been in vibrant red, turquoise, and purple tones. Remember that your dress will be the center of attention if it's form fitting and in a gorgeous color, so let it speak for itself and don't overdose on accessories. In fact, when it comes to jewelry, Blake Lively is the poster girl for "less is more." So keep it simple with a stunning bracelet, necklace or earrings that won't detract too much attention from the dress.
*Editor's note, this article was originally published on, and written for, Associated Content.com