Movie Inventions Expectation VS Reality – POP 5
Who doesn't love futuristic movies? The best part of these films is the technological inventions and how we leave the theater dreaming of these creations becoming real. Innovation is great, but someone's idea for bettering our society could also ruin our society if in the wrong hands. In the movies scientific facts and real world use are often ignored, because we are too infatuated with the awesomeness that is the hoverboard from "Back to the Future" or the lightcycles in "Tron." To be honest most of these futuristic inventions in reality would basically be threats to our nation's security. In today's POP 5 we are counting down the movie inventions that sound amazing at first, but in reality would be a bad idea.
POP 5 Movie Inventions
Expectation vs Reality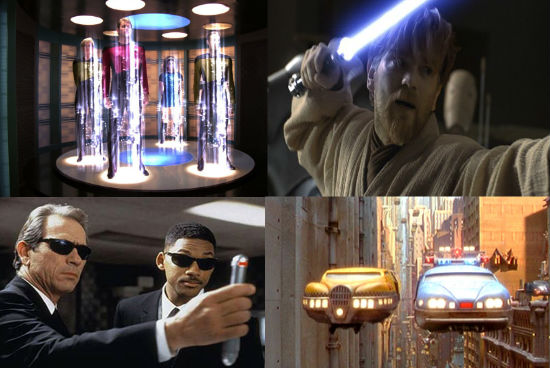 5. Cloaking Device – "Predator"
- Expectation: You could go streaking during the Olympics, and not be charged and sent to jail.
- Reality: You attempt to steal a bag of money from the bank, yet everyone sees the flying bag of cash.
4. The Neuralizer – "Men In Black"
- Expectation: Your parents yell at you for not completing your chores. In return you neuralize them & insist they buy you pizza.
- Reality: Relationships would be in jeopardy, because there would be an increase in trust issues. "Have you been neuralizing me?"
3. Flying Cars – "5th Element"
- Expectation: Forget waiting on the 405, let's zip and zag through the smog and make it from Santa Monica to Hollywood in 2 minutes!
- Reality: You get in a "Final Destination" style car wreck, due to the impossibility of proper air-traffic control.
2. Lightsabers – "Star Wars"
- Expectation: You would no longer have to add the fake sound effects & sword fights would be a thing of the past!
- Reality: We quickly realize that we all lack the force. Therefore population decreases, due to cut off arms, legs, and heads.
1. Transporter – "Star Trek"
- Expectation: "Beam me up, Scotty." You could be lazy all day and a minute before you are supposed to be at work, you could beam there.
- Reality: On a serious note, this has terrorist attack written all over it. Please researchers, never invent the Transporter.