What Not To Do At The Holiday Office Party
During the month of December many businesses take the time to put work aside for day and allow staffers to celebrate the holidays. Everyone in the office normally gets together to enjoy food, drinks, music, and games. For larger offices this may even be the chance for you to socialize with other employees that are from a different department. That opportunity right there can cause a lot of stress. To help you make a great impression here some tips that will keep you from becoming the talk of the cubicle the next morning.
What Not To Do
At The Holiday Office Party
If the party takes place after the work day then there more than likely will be alcoholic beverages. Whether this is a spiked punch, champagne, or some eggnog made with rum. Watching the quantity of how much you drink is really important. You don't want that buzz making you act forward and say provocative things, because you might find out later that sexy Shelly works for Human Resources.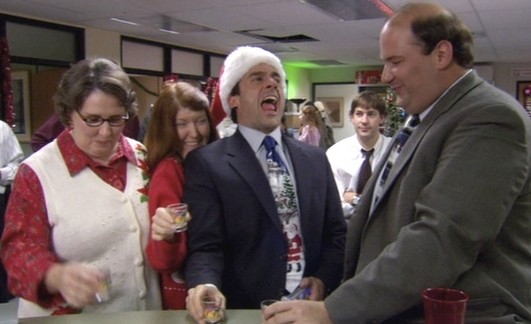 If you are the boss man/woman and volunteer to be
Santa Claus
for the party, be careful how serious you take your roll. Be jolly and cheerful, but don't start asking your employees what they want for Christmas. Trust me, I'm sure more than one of your employees will ask Santa for a raise or bonus. If this happens, just remind them that Santa isn't real and you have given them the gift of an office party.
If your office takes part in
gift exchange
or secret Santa, be careful what you purchase. This isn't a holiday party at your home with your closest friends, so not everyone may get your twisted sense of humor. Preparation H and adult diapers may sound like a hilarious gift to give to your best friend, but that gag-gift may not go over so well with your boss.
The holiday office party is truly a dangerous place. Your reputation could be on the line, but hey it's a party and we want to have fun right? I guess the only real good tip to give you would be one inspired by the images pictured within this article. Don't act like
Michael Scott
 and you will do just fine.