POP 5 Do's & Don'ts of Black Friday Shopping
'Tis the season for Black Friday shopping, yet they should almost alter the name due to stores opening as early as 6pm on Thanksgiving Day. These early Christmas deals have consumers of all ages placing their turkeys back in the freezer, just so they can line up early at Best Buy for a brand new television or gaming system, (and even those five dollar crock-pots at Wal-Mart). We've all seen the terrifying aftermath photos on the news and even the Youtube videos that have gone viral due to the madness breaking out when the doors open. THEPOPFIX wants to assist you in your deal-finding frenzy by delivering our POP 5 Do's & Don'ts of Black Friday Shopping.
POP 5
Do's & Don'ts of
Black Friday Shopping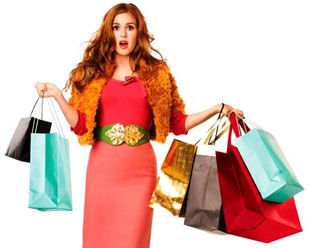 5. Dress for the occasion.
Do wear comfortable shoes and weather-appropriate clothing. Trust me; a good bit of these shoppers will be wearing pajamas. You are going out looking for great deals, not to impress others with your stylish pieces.
Don't forget your jacket when you decide last minute to stand outside of a store at 3am in the freezing fall/winter weather. We'll let it slide if you are waiting in line for a The North Face jacket and want to remember what life was like before that purchase.
4. Read the fine print.
Do make sure you take the time to read all of the fine print listed below sale prices. There are many instances where an item's sale price will have restrictions. Also, it's very important to know which exact version of a product the store has placed on sale.
Don't purchase a laptop or tablet just because the price is too good to pass up. Make sure you look at the item's specifications. You don't want to go and spend all that money on a tablet for your mom that only has enough storage to hold Candy Crush Saga. There are reasons why certain items are at such a great deal.
3. Leave the kids at home & bring a friend.
Do leave the children out of your Black Friday plans. Overall safety is a real concern & the stampeding zone is not place for a child. You should definitely bring a friend though. Friends can be great line holders and you can send them to grab one item, while you grab another.
Don't bring your kids shopping with you, because I'm sure you will be shopping for Christmas gifts and it will be impossible to hide your purchases from them. Telling them the new Wii "Just Dance" game is for their cousin will not work. Kids are smart; don't ruin the surprise.
2. Use the store flyer/map as your weapon of choice.
Do plan ahead; there's no need to go into the store blind. There are multiple websites that feature every store's Black Friday ad. Many of these websites also feature store maps that you can download to plan your route. Take those flyers and compare deals: many stores will feature the same item, yet one may have the better deal.
Don't for any reason whatsoever choose an actual weapon as your technique for grabbing those first come, first serve items. No one wants to be that woman who sprayed numerous shoppers with pepper spray just so she could snatch a video game.
1. Enjoy the holiday celebrations & shop online.
Do stay at home with your family and friends. Cyber Monday is just around the corner and the store's website will offer basically the same deals as Black Friday. The real plus side is that you can do all of this from the comfort and safety of your home! Then during the first few weeks of December, stores release even better deals for Christmas.
Don't rush through dinner and skip the watching of "A Charlie Brown Thanksgiving." The last thing you want is your annoying uncle telling stories at Christmas about how you ditched the family to wait outside in the miserable cold for a $29.99 Blu-Ray DVD player.
If you are still set on taking part in Black Friday, then I leave you with Effie Trinket's famous line, "May the odds be ever in your favor." For those staying at home, when you get tired of browsing through online deals, head on over to Twitter and give THEPOPFIX a follow.